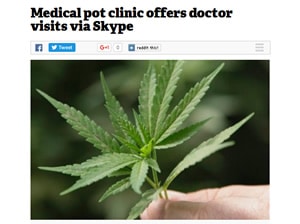 As printed in the Ottaw a Metro News. Read the original article here.
– By Trevor Greenway
An Ottawa-based medical marijuana licensing clinic is reaching out to patients as far as the Yukon by facilitating health care practitioner visits through Skype.
Patient navigator for Medical Marijuana Services (MMS) Robert Callaghan says telemedicine allows his company to link up remote patients with pot-prescribing doctors. Most physicians in Canada are still hesitant to prescribe the drug to patients he says.
"It is extremely hard to find a doctor," said Callaghan. "Our service reaches people. We are going to process thousands of patients over the next five years."
MMS opened last year and used to set up weekend clinics in the city. They would see a dozen or so patients over a few days and charge them $500 for a consultation with a doctor who could prescribe them pot. Today, the company is charging $300 and are now consulting with dozens of patients daily.
By 11 a.m. Thursday, Callaghan said six new applications had filtered into his inbox. He said the fees go to processing, marketing and the marijuana education they offer patients.
While some might assume it would be easy to fake an illness over a Skype meeting with a doctor, Callaghan said the process for screening patients is "very in-depth."
Patients are required to submit government-issued I.D., disclose their medical history and answer an intense questionnaire prior to getting a doctor's appointment.
The College of Physicians and Surgeons told Metro it is "concerned" about the recent changes to the medical marijuana access program, which now make doctors the gatekeepers of the drug. College spokesperson Prithi Yelaja said there is just too little marijuana research for doctors to reference when prescribing it to patients.
"The challenge for physicians is that for a variety of reasons, medical marijuana does not lend itself to a 'prescription,'" said Yelaja.
"There are no standardized requirements for marijuana, so unlike other drugs, physicians would have no way of knowing the potency of the marijuana, making it difficult for them to specify the dose patients should take."
Yelaja said that the college's telemedicine policy is "currently under review," but added that Ontario doctors who treat patients outside the province via Skype should also comply with the licensing requirements of, "any province, territory, country," they are practicing in. She added that the College still maintains jurisdiction over Ontario doctors regardless of where they practice.
As printed in the Ottawa Metro News. Read the original article here.