Make your grocery list and check it twice. The Holiday's are right around the corner and what better time is there to indulge in some homemade Holiday munchies? Baked goodies are always a good addition when celebrating with family and friends, but deciding on what to make can be quite the process sometimes.
First, you have to think of what to bake, find the recipe for it, buy all of the ingredients and then spend a couple of hours making it. Rather than spending all of your time in the kitchen, we've provided you with 6 delicious homemade recipes that are quick and easy to make. With the exception of homemade eggnog, these recipes can be prepared and ready on the same day that your company arrives!
Party Snacks Everyone Can Enjoy
Get into the Holiday spirit with these Holiday party snacks. Your guests will be begging you for the recipe!
Chocolate Peppermint Bark (3-ingredients)
The chocolate peppermint bark recipe only requires 3 simple ingredients, making it one of the easiest and cheapest recipes to bake over the Holidays. Let's look at what you'll need.
Ingredients
12 oz dark, milk, or white chocolate, high-quality and coarsely crushed
½ teaspoon of peppermint extract
5 coarsely crushed candy canes
Steps
1. Start by lining the baking sheet with parchment paper. Use either a heatproof bowl or a double boiler and place it over a pot of water and bring it to a lower simmer.
2. Put the chocolate in the bowl and stir until smooth when it is entirely melted. Now, you can remove the bowl from heat and gently stir in the peppermint extract,
3. Once you get the desired chocolate mixture, pour it on a baking sheet and spread evenly using either a spatula or wooden spoon.
4. Sprinkle crushed candy canes and press lightly to stick. Harden them by freezing for about 5 minutes.
5. Lastly, break into small pieces and serve up to 12 people.
Cinnamon Sugar Cookies
The Holidays won't feel complete without trying these homemade sugar cookies. These Cinnamon Sugar cookies are a fun recipe to try because they can be decorated and cut into multiple different shapes.
Ingredients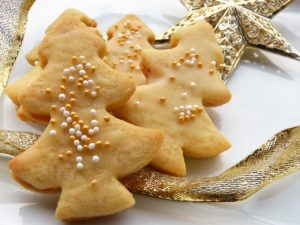 2 teaspoon baking powder
3 cups of all-purpose flour, unbleached
1 cup unsalted butter
½ teaspoon kosher salt
¼ cup cinnamon sugar
¾ granulated sugar
1 egg
Cookie cutter shapes
Steps
1. Line cookie sheets with a waxed or parchment paper. Preheat to 350 degrees F.
2. Pour baking powder, flour, and salt in medium bowl. Set aside. Using the electric mixer bowl combine butter, sugar, and cinnamon sugar until fluffy. Pour egg contents into the mixture and add the flour mixture little by little as your stir gently until thoroughly combined.
3. On a flat surface roll the dough and using a floured rolling pin try to achieve a thickness of ¼ inch. You can use your hands to remove any crumbly bits.
4. Cut the dough into desired shapes and place it onto a prepared cookie sheet. Freeze for about 5 minutes to prevent spreading,
5. Lastly, bake until done. It can take about 12 minutes to do so. Cool them all together, and then decorate with royal icing and sprinkles. Let them dry and then serve.
Pretzel M&M Hugs
This is an excellent treat for those who love sweet and salty flavors. This recipe will produce 70 little pieces.
Ingredients
70 Square pretzels
70 Hershey's Hugs chocolates
70 Milk chocolates M&M
Steps
1. Start by preheating the oven to 200 degrees F. Line cookie sheets with parchment paper.
2. Place the pretzels in a single layer on the cookie sheet. Put one Hershey's Hug chocolate on top of one pretzel. Do this for the 70 of them.
3. Bake for about 5 minutes. Do not let the chocolate to melt since you want them to hold their shape.
4. Place one M&M in each Hug (center) and press down to evenly spread the chocolate. Freeze for about 5-10 minutes.
5. Store in an airtight container. Ready for serving.
Gingerbread Chocolate Cupcakes
Your guests will not be able to stop talking about these gingerbread chocolate cupcakes. Try making these cute party favors with our simple recipe.
Ingredients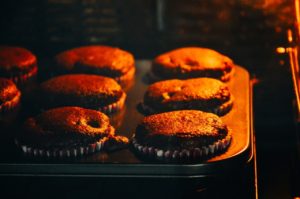 For Cupcakes:
3 eggs
1 box chocolate cake mix
½ cup melted butter
¾ cup milk
½ cup sour cream
For Frosting:
1 cup unsalted butter
3 cups powdered sugar
I teaspoon vanilla extract
1/3 cup crushed gingerbread
Gingerbread cookies
Steps
1. Start by preheating the oven to 350 degrees F. Line pan with cupcake liners.
2. Pour milk, cake mix, melted butter, eggs, and sour cream in a bowl and combine until smooth. When fully blended, pour mix into cupcake tray so that it is ¾ full.
3. Bake cupcake liners for about 15-20 minutes and let it cool.
4. Gingerbread Frosting: stir the butter until soft. Add vanilla extract, crushed gingerbread cookies, and 2 cups powdered sugar (or small amounts until you get the desired consistency). Let cool.
5. Frost the cupcakes and top with Gingerbread cookies. Ready for serving.
Homemade Eggnog
Have you tried making eggnog at home before? We've broken this recipe down into simple steps for you to follow. If you're running short on time, buying Eggnog from the store is not a problem.
Ingredients
4 cups milk
12 egg yolks
5 whole cloves
1 ½ cups sugar
½ teaspoon vanilla extract
4 cups light cream
1 teaspoon ground cinnamon
2 ½ cups light rum
2 teaspoons vanilla extract
½ teaspoons ground nutmeg
Steps
1. Mix milk, ½ teaspoon vanilla, cinnamon, and cloves in a saucepan. Heat low for 5 minutes. Let it boil slowly.
2. Take a large bowl and pour sugar and egg yolks and stir entirely until fluffy. Gradually add hot milk to the mixture. Pour the resulting mixture into the saucepan.
3. Medium cook as you stir after 3 minutes until thick. Do not boil the mixture. Remove cloves by straining and let it cool for one hour.
4. Stir in rum, 2 teaspoons vanilla extract, cream, and nutmeg. Leave the mixture in the refrigerator overnight.
5. Ready for serving.
Strawberry Santas (3-ingredients)
A homemade holiday recipe with only 3 ingredients, the Strawberry Santas are a healthier snack alternative and just as easy to prepare!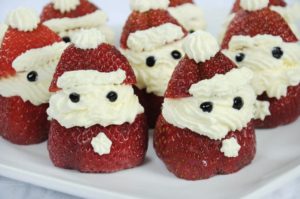 Ingredients
Fresh strawberries
Black icing gel
Vanilla frosting
Steps
1. Prepare strawberries by washing and cutting the top leaf off. Lay the strawberry horizontally, and cut in in half so that one side is pointed and the other side is flat from cutting the leaf off the top.
2. Press lightly on a fresh paper towel to absorb the extra juice and to maintain the frosting.
3. Put vanilla frosting in a piping bag and cut the corner off. Swirl some vanilla frosting the top of the flat strawberry end.
4. Place the pointed strawberry end on top of the frosting (like a santa hat) and add a small dab of frosting on top.
5. Add two eyes using the black icing. Now, you can enjoy the Strawberry Santas.
It's Time To Get Baking!
The Holiday's are here and lots of time is spent making food, hanging decorations, and buying gifts for the family. If you're looking for some easy and simple homemade munchies to host your family, friends, and neighbors with, look no further.
These party snacks are extremely easy to make and enjoyed by everyone. Since they don't call for too many ingredients, they can be made the same day that your guests are planning to arrive.
Happy Holidays from Medical Marijuana Services!